Osman Rasul Mohammed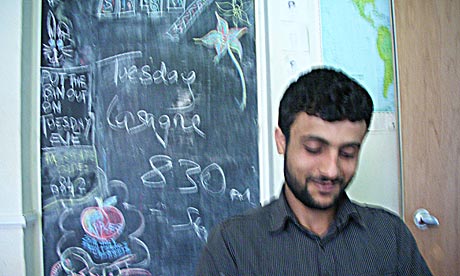 The death of Osman Mohammed has come as a shock to many of the people who knew him. It is imperative that, through all of the political attention that will come from his story, we remember the human side – the wonderful person that Osman was. (please click on Read More or here for background and links to press).
Throughout the 6 months that we knew him he was never anything but a caring, giving and polite man. Even through all of the traumatic experiences he had to face, he never let these crush his compassionate spirit. This compassion, along with the immense strength he showed, is what we will always remember him for.
On several occasions Osman said that he just wanted the whole world to live in peace, and that he did not wish any pain or revenge on anyone. It is this compassion that makes his life a beacon to all those who are suffering in similar situations to him.
-Friends
What happened to Osman and how you can help:
Since Osman's death we have started raising money in order to help pay for the repatriation of his body and burial. As soon as this is attended to, and its importance cannot be stressed enough, we hope to continue to raise money to help support those who face similar problems to Osman. This is in the knowledge that if we can prevent just one other person suffering what Osman went through, we will be doing right by our friend.
Osman was an asylum seeker from Kurdistan who had lived in the UK since 2003. Having faced constant dismissal from the Home Office over all these years and in the wake of several traumatic experiences over the past month, Osman took his own life on 25th July 2010. A commemoration event and fundraising efforts are now being put in place in order to mark Osman's life. These will be taking place over the next month. The immediate future requires that we help raise the £3,300 needed to send Osman's body home, so he can be buried by his family. Once this has been done we will be raising money to help support asylum seekers in Nottingham. There will be more detail about this on the blog.
We have now set up a dedicated bank account to handle donations taken in the immediate future. If you feel you can spare anything, you can find details on how to donate, along with information about the progression of the campaign, at http://friendsofosman.wordpress.com/
Thank you so much on behalf of all of Osman's family, friends and those who understood his struggle.
News Articles:
Osman's story has been published in the press, please see the links below and the 'Friends of Osman' blog page for more information on this:
An article published by the Guardian:
http://www.guardian.co.uk/world/2010/aug/01/asylum-seeker-osman-rasul-death-legal-aid
An article published by the Nottingham Post:
http://www.thisisnottingham.co.uk/news/Friend-launches-campaign-send-asylum-seeker-s-body-home/article-2481872-detail/article.html
The story was discussed on BBC Radio Nottingham's breakfast radio show just before 8am on Tuesday 3nd August. Segment begins at 1:53.30
http://www.bbc.co.uk/iplayer/episode/p0091tf0/Andy_Whittaker_03_08_2010/
Osman's story will also be discussed on Radio 4's Face the Facts show on Thursday 5th August.
http://www.bbc.co.uk/programmes/b00t8752